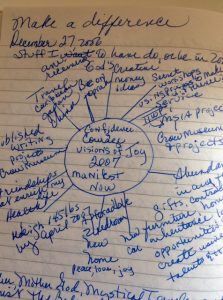 In 2003, the real estate market across our country was hot. I sold thirty homes in one year. By 2006, the bubble burst, unemployment was 10%. I was homeless, jobless, and penniless. What was I to do?
I wrote in my journal on December 23, 2006 "Almost noon staying with my friend Sandi and Tony De Veau, dog sitting Taska and Annie. So wonderful to have this haven of safety and love to rest" Sandi offered me a bedroom in her home until my life turned around.
On December 27, 2006 in my journal I began to draw a mind map, a diagram used to organize information, on the top of the page "Make a Difference", stuff I am receiving to have, do or be.
Instead of creating from fear, I choose to walk in faith and dream. In 1989 I began writing my book, "A Dream is a Wish the Heart Makes, or if at first you don't succeed, change the rules" when I was diagnosed with cervical cancer.
The night after receiving the diagnosis I called in the Light and found myself touching the hem of Jesus's cloak. I knew I would be healed from this life-threatening disease because of my faith in God, and Jesus Christ. The night before surgery I sat in my bed seeing the doctors and myself in loving. Deep in meditation and prayer I was lifted out of my body into a ball of pure love and light. The next day when the biopsies came back there was no cancer.
Without hormones, my body began to change. I had no energy and felt depressed. My life priorities became take care of yourself first, so you can take care of others.
Then I asked myself, if I had all the health and energy possible what would I be doing with my life? With more light, prayers and the Intention of feeling better I found hair analysis. Within a few months of participating in the body balancing program, my health and life turned around.
I wanted to make a difference assisting others who could be experiencing life challenges. I became licensed as a hair analysis specialist using diet, supplements and my new techniques of intention to create a better life.  In the twenty-five years serving as a health and wellness coach I have assisted hundreds in creating healthier, happier lives.
In 2006 when my next life crisis of being jobless, homeless and penniless appeared I turned to the Traveler and my book, "A Dream is a Wish the Heart Makes, or if at first you don't succeed, change the rules", published in 2004. Let us see if the 5-step process in the book, works.
To get a higher perspective I called in the Light of God and asked The Christ Light that was within me to assist me in my life direction. Stepping into living love of the Mystical Traveler is like having a flashlight in the darkness of the soul.
Next, I drew the inner circle and wrote confidence and courage visions of joy 2007 manifest now. I began to listen to my inspired thoughts, and wrote an affordable home, job, abundance.
When I had almost finished I wondered, what if I had a big goal, something gigantic. My heart started beating fast, I got so excited, what if I could manifest being in Oprah's Book Club audience?
I took out my Dream book and began clearing the way to receive my goals. Each day for the next 30 days, I wrote my intentions.
The magic of intentions on the imperfect circumstances of chaos, to expand in an imagined restricted or resistant area, expand the rubber band of thought and imagination with enthusiasm, and make the changes easy, pleasurable, safe and most of all fun. After all, who made the rule that change had to be hard?
My first goal, February 1, 2007 I created a job in property management at a commercial building. By the end of March, I moved into an apartment near White Rock Lake. Since moving to Dallas in 1986, I had always wanted to live near the lake. The young woman who lived in my new apartment had to leave suddenly. I told her I had no furniture. She gave me her sofa and love seat. I was able to get her lease rate, well below the going rent.
When I had my cable and internet, service turned on I began to participate on the Oprah Book Club website. The book in discussion was, "Pillars of the Earth" by Ken Follett.
I love historical fiction. Ken's book of building medieval cathedrals by ordinary people was exciting to read. The reading guidelines on Oprah's website gave me a deeper perspective of how the story developed the characters and plot twists. I looked forward to each step of the story and sharing my point of view on the Oprah book club website.
Then in early December of 2007, I received a telephone call from one of the producers at Oprah. Would I be interested in being in the audience with Ken Follett and his book "Pillars of the Earth" at the end of January 2008? I discovered I would have to pay for the trip to Chicago, I said no I could not afford to go.
I called my younger brother Allan who lived in New Hampshire and told him about my invitation. He was so excited for me and told me to call the Oprah people back that he would pay for the trip.
The next day I was able to contact the producer who gave me the day, time, and instructions on where to find the studio.
What if I could get on national television, maybe ask an important question, one that no one had discovered?
On Ken Follett's website, I found two special projects that involved literacy and I knew literacy was also important to Oprah. I began to see myself in the Oprah audience raising my hand and asking Ken Follett the important questions.
My brother Allan was as excited as I was when we arrived in wintry cold Chicago at the end of January 2008. Unfortunately, Allan was unable to accompany me to the show taping.
Before the taping, Oprah's cheerleaders came out to explain what we could expect. Then the show started. I listened carefully to Ken and Oprah talk about the book.
The interview with Mr. Follett took almost all day. There were one or two questions during the interview but none touched on the information I knew. It was the last two minutes and Oprah asked if there was anyone in the audience that had a question. Hands from everywhere flew up.  I raised my hand, and Oprah called on me.
I have attached a link to the video of my short appearance on Oprah's Book Club.
The change in my life from a life threatening illness to wellness with a purpose was a testament to my years of walking the spiritual path.
With the loving light in my heart I went from being homeless, jobless, and penniless experiencing the biggest dream I could have ever imagined.
I am sure I have received my dreams in my life while digging deeply into the spring of love inspired by the Mystical Traveler Consciousness which I drew upon when writing,
"A Dream is a Wish the Heart Makes or if at first you don't succeed, change the rules."
https://youtu.be/W6W4AEjQomo Oprah U-Tube Video
My book, "A Dream is a Wish the Heart Makes" has been updated
"Do You Have a Dream? 140 Insights to Building Confidence,
Overcoming Stress & Loving Yourself"
Contact for interviews, individual or group workshops:
Grace Allison, Author
4408 14 Street
Lubbock, Texas 79416
806-543-3308
Email: graceallisonauthor@gmail.com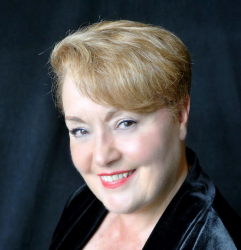 Latest posts by Grace Allison
(see all)